The Studio
The Alexander Studio is the Centre for the Alexander Technique London, W1
The Alexander Studio was opened in 1993 by Anthony Kingsley. Anthony previously worked for 6 years with Dr Wilfred Barlow, who was one of the first teachers to be trained by F M Alexander. The Studio continues this proud tradition, and is committed to Alexander's original principles.
Anthony provides programmes of Alexander Technique lessons in London to meet individual needs and requirements.
The Alexander Studio also offers consultancy to companies onsite for workstation support and general ergonomic education.
Anthony also offers psychotherapy sessions from the Studio and Online.
The Studio is conveniently located within a beautiful listed building, in a quiet street in the centre of London. The workspace is modern, light and airy, and there is a general atmosphere of calmness and welcoming. There is easy access by bus or tube, and plenty of parking meters in the area.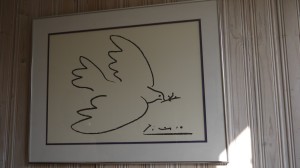 The Alexander Studio
16 Balderton Street
London W1K 6TN
020 7629 1808
The Alexander Studio is right in the centre of London, near Bond Street Tube station. Balderton Street, just off Oxford Street, is situated opposite the main entrance of Selfridges, W1.